Suggestions
TiVo Suggestions is an automatically generated a list of shows you might like. The more you use your TiVo box, the better your box will get at finding interesting shows for you.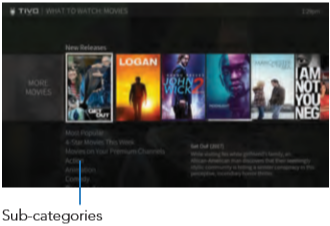 Auto-recording TiVo Suggestions
When your TiVo box has available space, it automatically records TiVo Suggestions. But you don't ever need to worry about recorded Suggestions taking up space — here's why:
TiVo Suggestions never replace shows you record, or prevent your shows from being recorded.
TiVo Suggestions are always the first shows deleted to make room for your recordings.
If you'd prefer not to record TiVo Suggestions automatically, you can turn them off. From the Home screen choose the Menu icon

, then choose Settings > User Preferences > TiVo Suggestions.
Watching TiVo Suggestions
TiVo Suggestions appears as a filter in the My Shows list. Select it to see all of your recorded Suggestions.