NOTE: The Summit Broadband Whole Home DVR powered by TiVo is not available in all markets. This content only applies to accounts in communities where this service is available.
Finding Shows
Guide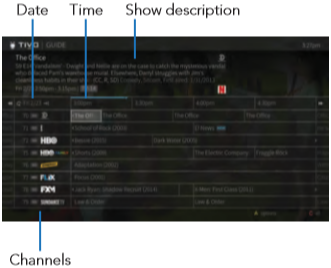 The on-screen program guide displays up to two weeks of TV programming at the touch of a button — the
button on your TiVo remote. When you're viewing the guide, press
to display Guide Options (see below).
The one-line guide is a smaller version of the program guide. Press Up while watching TV to view it. The one-line guide shows you what's coming up on the channel you're watching; press Up/Down to view other channels. See Quick tour - QuickView for more.
Icons in the guide help you navigate to the shows you want. New shows are marked with a New icon. Shows that are currently recording have a red circle icon next to the title, while shows that are scheduled to record are marked with a check mark (for individual shows) or double check mark (for OnePass recordings).
To move around in the guide:
Press Fast Forward to move the displayed time ahead two hours (one page), or press Rewind to move it backward.
Press 

Advance

 to jump 24 hours ahead, or Replay to jump 24 hours back.
Press OK on a show in progress, and the channel changes to that show. Press Record to record it.
Press OK on an upcoming show, and you'll see a screen with recording options. Set up your recording or press to go back to the guide.
Search
Search by show title, episode title, show description, or person name (actor, director, etc.). The TiVo service searches upcoming TV shows and movies and streaming videos/VU-IT On Demand all at the same time. You can even search for a particular channel by its network name or call sign (e.g., NBC or ESPN).
Voice Search
While viewing any TiVo menu or watching TV, press and hold the Voice button on the TiVo remote.
Speak naturally into the microphone. Say a title, actor, or keyword, and release the button when you have finished speaking.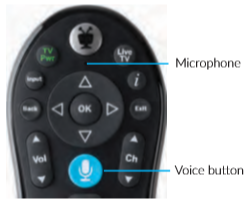 See Voice for additional voice commands.
Keyboard Search
From the Home screen, select Search.
Use the letter grid to spell out the title, person, or word you're looking for. Press the arrow buttons to move around, then OK on each letter you want. As you select letters, a list of possible matches sorted by popularity appears on the right. For example, if you enter the letters HOW, you might see matches for the TV show "How I Met Your Mother," the streaming movie "How To Lose A Guy In Ten Days," and the director Ron Howard. Results are sorted by popularity, with better matches higher in the list.

Keep selecting letters until you see what you're searching for. If you make a mistake, you can press Clear to erase everything, or Rewind  to erase one letter at a time. Insert a space by pressing Fast Forward .
Use the Right arrow to highlight the show or person name.
Press OK to view details, set up a recording or OnePass, or bookmark the show.
Number Pad Search
From the Home screen, select Search on your remote control.
Before entering any letters or numbers, press Up on your remote.

Note the letters associated with each number key displayed on the screen. Press the number buttons on the remote the correspond to the letters you want to enter. For example, if you want to search for NCIS, enter 6-2-4-7.
To switch back to the on-screen keyboard, press Down to highlight a letter.
What To Watch
What to Watch lets you browse shows available to stream, watch live, bookmark, or record. From the Home screen, select What to Watch or press
.
Top-level categories include On TV Today, Sports, Movies, and more. Each category also includes more specific sub-categories to help you find exactly what you're looking for. For example, from the Movies strip, select View All to see subcategories like New Releases, Movies on your Premium Channels, Action, and Comedy.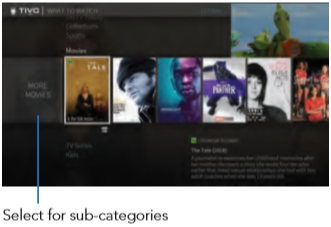 NOTE: While viewing a strip, press REPLAY
to move to the View All or More tile at the beginning of the strip, then press OK to see sub-categories.
WishList® Searches
A WishList search finds shows that match your search criteria on any channel you receive —and it keeps on searching for as long as you keep the WishList search. If you choose to auto-record matches to your WishList search, you'll find any recorded matches in your My Shows list.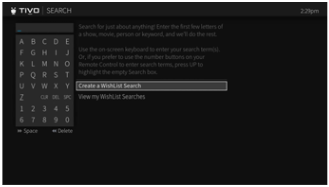 You can search for something specific by creating a WishList search with multiple criteria: for instance, you might create a WishList search for actor George Clooney, category Movies, and sub-category Action. This WishList search would find action movies starring George Clooney.
You can even use WishList searches to find something very specific. For example, the keyword GIANTS with category Football would find Giants football games, but not baseball games.
Creating a Wishlist Search
NOTE: You can create a WishList only on a DVR.
From the Home screen, choose Search.

Without entering any letters, move to the right side of the screen to select Create a WishList Search. Alternatively, you can enter a search term before selecting Create a WishList Search, and this term will be treated as a keyword (see below).
Next, start choosing criteria for your WishList search. You can choose any or all of the following:
Title Keyword Search for shows with specific words in the show or episode title.
Keyword Search for shows with specific words in the show title, episode title, or description.
Actor Search for shows with your favorite actor.
Director Search for shows by a specific director.
Category Search for specific categories and sub-categories of shows (for example, action movies or nature documentaries).
After entering your initial search criteria, you'll return to the WishList screen. Continue adding as many search criteria to your WishList search as you like. For instance, you could create a WishList search like this:
-- Keyword: Ocean
-- Actor: George Clooney
-- Category: Movies
Your results would include only Ocean series movies starring George Clooney.
When you're finished entering search criteria, select Done entering terms.

Choose to save the WishList (which will tell your TiVo DVR to start searching), change your search terms, or change recording options. When you're ready, choose Save This WishList Search.
NOTE: If you want your TiVo box to record matches automatically, be sure to choose Modify Recording Options and turn Auto-Record to Yes.
The final WishList screen allows you to edit your search terms, change recording options, rename the WishList search, or cancel the search. You can always get back to this screen by Managing your WishList searches.
If you've turned on auto-recording of WishList matches, each auto-recording WishList search and its upcoming recordings will appear My Shows, the To Do List, and the OnePass Manager.
Managing Your WishList Searches
NOTE: You can manage your WishList searches only on a DVR.
To view or edit a WishList:

You can also edit your WishList search from the OnePass Manager. Select the Menu icon

from the Home screen, then choose > Manage > OnePass Manager.
From the Home screen, choose Search.
Move to the right side of the screen and select View My WishList Searches.
Choose the WishList search you want to edit. From there, you can choose:

Edit WishList Search Terms: Change the search criteria.
Modify Recording Options: Turn auto-recording on or off. If auto-recording is on, you can choose whether to record only new shows (or reruns as well), how many shows to keep, and more.
Rename this WishList: Change the name of the WishList search.
Delete this WishList search.