NOTE: The Summit Broadband Whole Home DVR powered by TiVo is not available in all markets. This content only applies to accounts in communities where this service is available.
Streaming Videos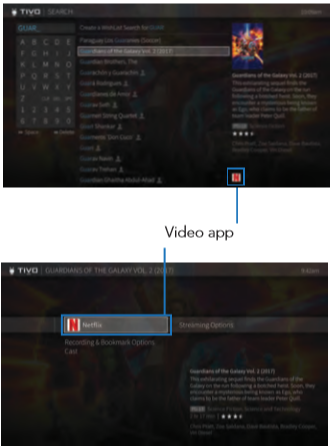 When you search or browse for movies or individual episodes of a series, your results include videos available to stream from your selected video apps — no need to switch to a different input. Available video apps are shown in the right column of the search screen or on the Series, Movie, or Episode screen. From there, you can see a list of your streaming options.
Don't have time to watch it now? Rather than search for it again later, bookmark it to add a link to the video directly to My Shows.
Currently available streaming movies are found in My Shows in the Movies filter, or in the Streaming Movies group when the list is not filtered. Available TV shows are added to the TV Series category.
If a streaming video is currently unavailable from any of your video providers, it's added to the Currently Unavailable group at the bottom of My Shows. When the video becomes available, it will automatically be added to the appropriate My Shows category or folder.