NOTE: The Summit Broadband Whole Home DVR powered by TiVo is not available in all markets. This content only applies to accounts in communities where this service is available.
Default Options
NOTE: You can set OnePass and recording options only on your DVR.
Default OnePass and recording options apply to all OnePasses you set up, and all shows you record that are not part of OnePasses. You can change the default values at any time.
From the TiVo DVRHome screen, choose the Menu icon > Settings > User Preferences.
Choose OnePass & Recording Options.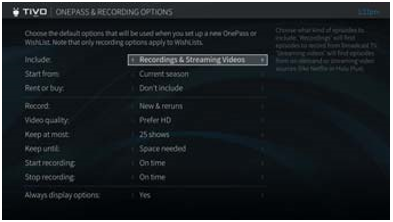 Options Include:
Include: Choose to include recordings, streaming videos (from sources like Netflix, Hulu, HBO Max, Prime Video, and more), or both in your OnePass results. Remember, streaming videos don't take up any disk space. (OnePass only.)
Start from: Choose a starting season for the OnePass (e.g., current season, season 1, or new episodes only)
Rent or buy: Decide whether to include episodes that need to be purchased before viewing. Note that the TiVo Service will not purchase the items for you; you will have the option to purchase them at the time of viewing. (OnePass only.)
Record: Skip reruns or watch them all? Choose New Only to avoid reruns. (Recordings only.)
Video quality: When you set the Channel setting (above) to All, you can choose how often to get the HD version of a show: always, never, or if possible. Note that if you choose Only HD and a show is not available in HD, it won't be recorded. Likewise, if you choose Only SD and a show is only available in HD, it won't be recorded. (Recordings only.)
Keep at most: Set the maximum number of recordings to be saved. (Recordings only.)
Keep until: Choose how long to keep recordings (Recordings only.)
Start recording: Start recording up to ten minutes before a show is scheduled to begin. (Recordings only; available only before recording starts.)
Stop recording: Set a recording to continue — for a few minutes or up to three hours — after it's scheduled to end. You can change this setting when you set up the recording, or while the recording is in progress. (Recordings only.)
Always display options: Choose whether to see the Options screen when you set up a OnePass search, WishList search, or recording.
Per-Recording or Per-OnePass Options
Default recording and OnePass options apply to all OnePasses and individual recordings; however, you can always choose options for a particular series or recording when you first set it up.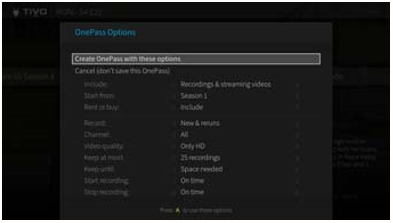 NOTE: if you have Always Display Options set to No, you will not see the Options screen when setting up OnePass search, WishList searches, or recordings.
Or, to view or change recording options for a single recording, or for a particular OnePass or WishList search:
From My Shows, the To Do List, or the OnePass manager, choose a series, movie, or episode.
Select OnePass Options or Recording Options.
Choose Modify OnePass or Modify Recording.