NOTE: The Summit Broadband Whole Home DVR powered by TiVo is not available in all markets. This content only applies to accounts in communities where this service is available.
From the Home screen, choose the Menu icon

 > Settings > Channel Settings.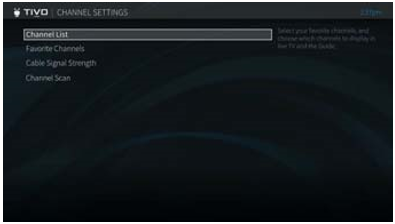 Channel List
The Channel List screen displays the complete list of channels available in your channel lineup. A check mark appears next to each channel that will appear in the Guide and live TV, and which channels are available for searching and recording shows. Press OK to remove the check mark next to channels you want to hide. For example, you may uncheck the channels that you don't watch, or those to which you don't subscribe. To choose favorite channels (which will display in the QuickView favorite channels panel, go to User Preferences. (See Quick tour - QuickView for information on QuickView panels.)
If your channel list is incorrect, you can change your channel lineup. From the Channel List, press ENTER to repeat Guided Setup.
Favorite Channels
Choose your favorite channels from your channel list. Highlight a channel and press
 to mark it as a favorite; press OK again to remote it from your favorites. Once you choose favorite channels, they'll appear in the Favorite Channels panel of QuickView, and in the Favorite Channels view in the Guide. See Guide options and Quick tour - QuickView for more.
Signal Strength (Cable OR Antenna)
Use the Signal Strength screen to test the incoming signal on specific channels. The signal strength meter can help diagnose signal issues. For example, adding multiple RF splitters to your RF cable source (the cable coming from the wall) can result in reduced signal strength on some channels. Use the meter to check signal strength with and without splitters.

 If there is a change to your cable subscription package or channel lineup, a TiVo message will inform you. Use Channel Settings to ensure that your Channel List reflects the change to your lineup.