NOTE: The Summit Broadband Whole Home DVR powered by TiVo is not available in all markets. This content only applies to accounts in communities where this service is available.
The Info Banner
The info banner displays the show title, description, ratings, and other information. To view the info banner while watching a show, press Info
. Icons in the info banner are shortcuts to corresponding features. Use the Up/Down arrows to highlight an icon, then press OK.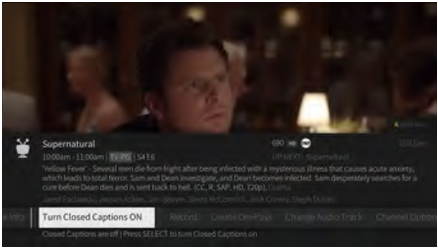 From the info banner, you can:
Turn closed captioning on or off.
Record the show.
Create a OnePass search for the show. Learn more in OnePass™ Searches.
Add the channel to your Favorite Channels list or remove it from the list. To set favorite channels, select the Menu icon from the Home screen, then go to Settings > Channel Settings.
Lock the channel. This option requires a Parental Controls PIN to access.
Choose More Info to go to the Series, Movie, or Episode screen.
Change the audio track. The option is available only when other audio tracks are available.