NOTE: The Summit Broadband Whole Home DVR powered by TiVo is not available in all markets. This content only applies to accounts in communities where this service is available.
Settings Menu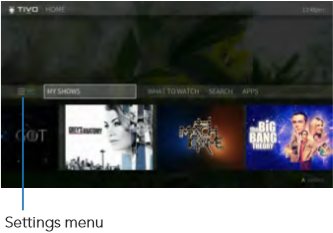 To manage your recordings and OnePass searches and to control your settings, move to the Menu icon

and press OK. Here, you'll be able to customize your options, including recording settings, OnePass priorities, Parental Controls settings and User Preferences. Note that some settings are available only on DVRs.
The SmartBar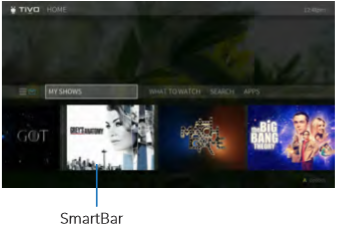 The SmartBar predicts shows to watch based on what your household usually watches at a particular time or day. For example, if you normally watch the previous night's late-night talk show the next morning, you'll see it in the SmartBar when you wake up. If the kids tend to watch shows while dinner's cooking, those shows will be waiting in the SmartBar at that time each day.
Use the Down arrow on your remote control to move to the SmartBar, then select a show to go to the Series or Movie screen, where you can choose to watch it.