NOTE: The Summit Broadband Whole Home DVR powered by TiVo is not available in all markets. This content only applies to accounts in communities where this service is available.
The Home Screen
The Home screen is the starting point for just about everything you do with your TiVo box. From the Home screen, you can easily access popular destinations in the TiVo experience; get personalized recommendations from the SmartBar and What to Watch, and watch/control the currently-playing show. You'll learn more about these options later in this guide, but remember — it all starts from the Home screen.
To get to the Home screen from live TV or any TiVo screen, just press the TiVo button
on your remote control.
Home Screen Menu Items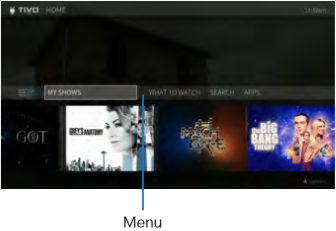 Home screen menu items across the middle of the screen take you to commonly-used screens in the TiVo experience. Use the Left and Right arrow buttons on your remote control to move between menu items, and press OK to choose one. Use Back to go back to the previous screen.
My Shows takes you straight to your recorded and streaming videos, all ready to watch instantly, no matter if they're TV recordings, on demand shows, or streaming from apps like Netflix.
What to Watch lets you browse shows available to stream, watch live, bookmark, or record, divided into popular categories.
Search searches by title, actor name, or keyword — across TV, video on demand, and popular streaming apps all at once.
Apps lets you access your favorite streaming and music apps directly.
VU-IT On Demand takes you to the VU-IT On Demand menu.
Easily add your own items to the menu as well; for example, to get quick access to a streaming app like Netflix. Just press
on your remote, and enter an available shortcut number for the item you want. The new item will appear in that position on the menu.