NOTE: The Summit Broadband Whole Home DVR powered by TiVo is not available in all markets. This content only applies to accounts in communities where this service is available.
From the Home screen, choose the Menu icon

> Settings > User Preferences to customize the Home screen, video apps, display of closed captioning, video window, and much more.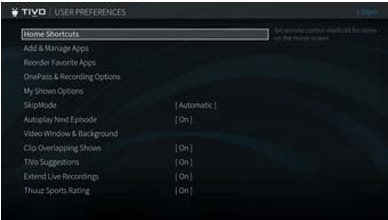 Home Shortcuts
Assign a remote control number to a shortcut by highlighting the shortcut and pressing a number available for shortcuts. To unassign a number, highlight the shortcut and press CLEAR.
NOTE: You can also assign Home screen shortcuts when you're on the Home screen by pressing A.
Add & Manage Apps
Use the this screen to select the video apps (like Netflix or Prime Video) that you would like included in your results when searching for TV shows and movies.
NOTE: OnePass works best when this list is up to date, with as many video apps as possible selected.
Reorder Favorite Apps
Use the this to reorder apps you've chosen as favorites.
OnePass & Recording Options
Use this screen to set OnePass and recording options that will apply to all OnePasses and WishList searches you set up, and all shows you record that are not part of OnePasses. You can change the default values at any time. For more information, see OnePass & Recording Options