Your Summit Broadband DVR and HD Receivers have a comprehensive settings menu, which includes a program guide and many other options.
Set your favorite channels, timers, parental controls and more. Watch TV the way you want to. Press MENU twice on your remote to access General Settings. This section gives you all the information you need to personalize your viewing experience from the General Settings Menu.
Parental Controls
Parental Control lets you block viewing and purchases of TV programs and movies, as well as recorded shows, based on your viewing preferences. You can also hide adult titles from being displayed on screen. From the Parental Control Menu, you can set locks by Rating, Content, Channel or Time.
Customized Views
There are several ways to customize views including Sorting, Listing, and Date views.
Sorting Channels
Sorting channels makes it easy for you to personalize your Guide. You can choose to list channels by Favorites, HD, All or create up to three Custom Lists.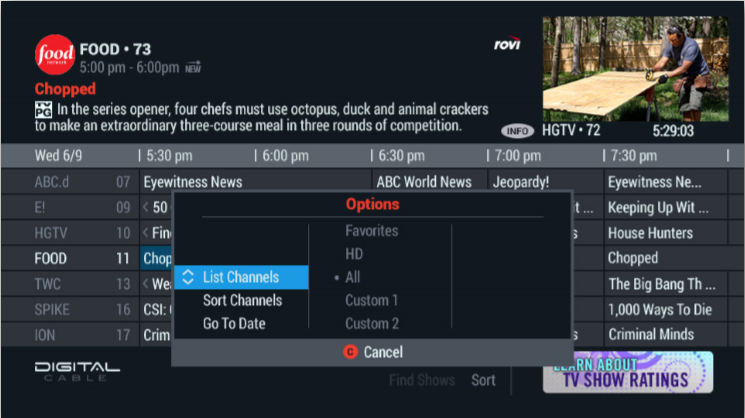 Listing Channels
From the Guide, Press A to sort and display channels based on your preferences. Select List Channels to change your grid view to Favorites, HD, All Channels or one of three Custom Lists. Press SELECT/OK and a dot will appear next to your choice. The Guide will automatically list only those channels.
will appear on the Grid Screen when the Use Always selection is made for a Custom List.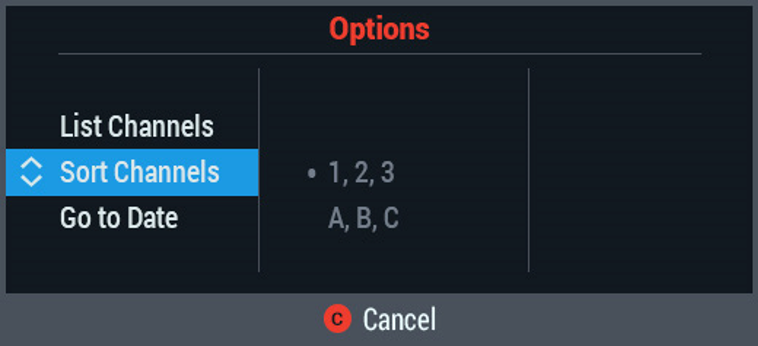 Press A and select Sort Channels to sort alphabetically or numerically. The channel list will automatically sort according to your selection.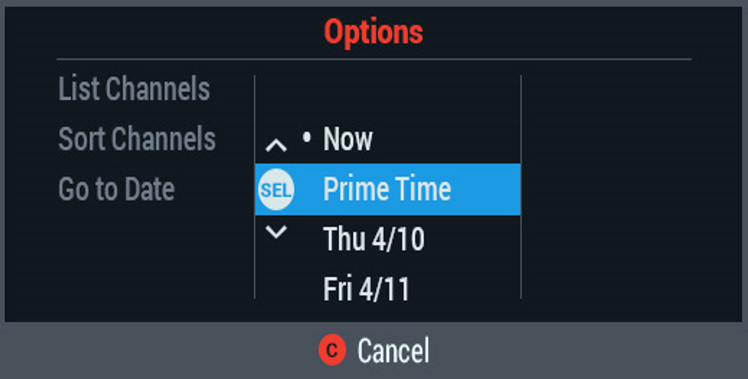 Go to Date
From the Time Grid, Press A, then Go To Date to jump to Prime Time listings or to listings for a specific day in the future.